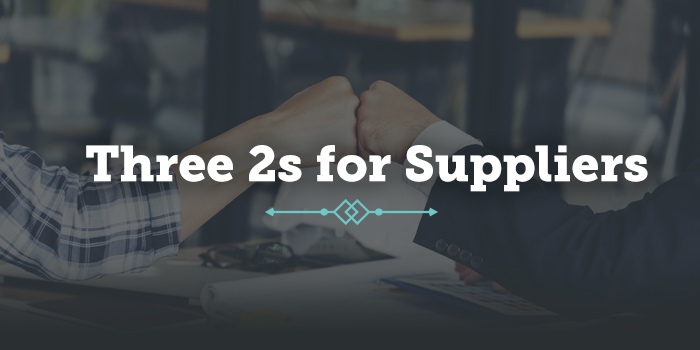 December 2020

Welcome to the December edition of the Three 2s newsletter.

We made it to the end of 2020! As the year winds down, it's time to start thinking about your resolutions and goals for 2021. Maybe you want to look at ways to increase brand awareness or venture into new areas of marketing. Whatever you choose to focus on in the new year, don't forget that ASI has many tools and resources to help you educate yourself and your staff and be a successful supplier in the promotional products industry.

In this issue, we introduce some new social media marketing tactics and highlight the value of branded merchandise in regards to activism.

We hope you have a wonderful holiday season and best wishes for the new year.

As always, remember that ASI is here to help and support you. If you need anything at all, please do not hesitate to contact your Account Executive or Caitlyn, Supplier Specialist at caitlynm@asicentral.com or 215-953-3450.

Sales Tips

Optimize your Twitter bio
to showcase your brand's personality.
Your bio is a 160-character location to showcase your company right under your profile photo. You need to create a killer one.
Tips from: Neil Patel
Offer a promotion, perhaps at a trade show a small giveaway on your stand. Remember Snapchat is a transient medium, it's not like Twitter or Facebook where someone might view your share several days into the future. It's the here and now so tailor calls to action for immediacy.
Tips from: Chris Dawson
Industry Articles to Read



New Snapchat, Twitter Features Have Promo Potential

Case Study: Inspiring Activism Through Branded Merch
Videos to Check Out

Have questions about your membership? Want marketing suggestions?
Or call her at (215) 953-3450.
asi/33020
©2020, Advertising Specialty Institute®. All Rights Reserved.
Advertising Specialty Institute, Inc., 4800 Street Road, Trevose, PA 19053
Opt out of this email list or Manage your preferences
Sent to: %%email%% asi/%%ASI_Number%%
302-7765w 1220