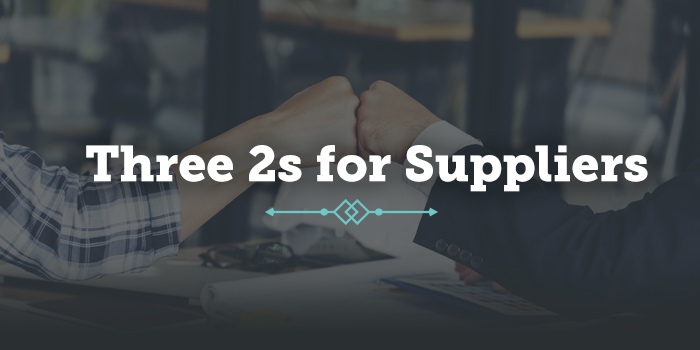 October 2020

Welcome to the October edition of the Three 2s newsletter.

We've all shifted our working conditions for quite some time now and although it may seem like you are in new routine, it can be helpful to reassess your working environment and take inventory on what is working or not working. Included in this issue are tips for working from home, suggested apps and items to make working from home easier and a video and article on building an efficient e-commerce website.

As always, remember that ASI is here to help and support you. If you need anything at all, please do not hesitate to contact your Account Executive or Caitlyn, Supplier Specialist at caitlynm@asicentral.com or 215-953-3450.

Sales Tips

Focus on Your Current Customers





The time it takes each deal to go from initial contact to final closing varies and depends on your pipeline, sales cycle, deal value, and other factors. If you want a better chance of hitting your sales targets, pay attention to the customers you already have – nurture them, make them feel valued. Upsells and cross sells across departments add up in B2B Sales.
Tips from Elay Cohen
Solve Problems—Avoid Pitching Products
As a sales department with a deadline to meet, the temptation to continually pitch products to customers never fades. However, helpful, problem solving content and conversations will always improve the possibility for sales. Instead of often giving product pitches during emails and other communication media, engage prospects to try and solve their problems.



Tips from Elay Cohen
Industry Articles to Read




How to Build an Efficient E-Commerce Store



4 Apps to Help You Work From Home Effectively

Videos to Check Out

Have questions about your membership? Want marketing suggestions?
Or call her at (215) 953-3450.
asi/33020
©2020, Advertising Specialty Institute®. All Rights Reserved.
Advertising Specialty Institute, Inc., 4800 Street Road, Trevose, PA 19053
Opt out of this email list or Manage your preferences
Sent to: %%email%% asi/%%ASI_Number%%
302-7765 0920