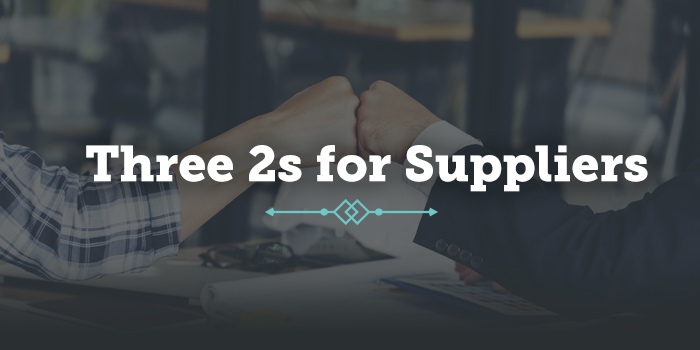 August 2020

Welcome to the August edition of the Three 2s newsletter.

While many supplier companies are open and returning to business, there are still many that are transitioning and working toward a new normal. As always, it is our goal to provide resources and support to each supplier no matter where they are in this unique journey.

In this issue we have tips on increasing sales and ways to sell apparel for virtual events.

As always, remember that ASI is here to help and support you. If you need anything at all, please do not hesitate to contact your Account Executive or Caitlyn, Supplier Specialist at caitlynm@asicentral.com or 215-953-3450.

Sales Tips

Ask for testimonials, reviews and introductions from your best clients. According to Training Industry, 69% of small businesses rely on reviews first to select potential providers.
Tips from: Anthony Cole
Stop worrying about selling somebody something, and start worrying about helping somebody. Simply have a goal of making somebody smarter for having met with you. Try to find some way to help them. Remember – takers eat well but givers sleep well.

Tips from: Anthony Cole
Industry Articles to Read



How to Increase Q4 Sales


How to Sell Apparel for Virtual Events
Videos to Check Out

Have questions about your membership? Want marketing suggestions?
Or call her at (215) 953-3450.
asi/33020
©2020, Advertising Specialty Institute®. All Rights Reserved.
Advertising Specialty Institute, Inc., 4800 Street Road, Trevose, PA 19053
Opt out of this email list or Manage your preferences
Sent to: %%email%% asi/%%ASI_Number%%
302-7765 0820