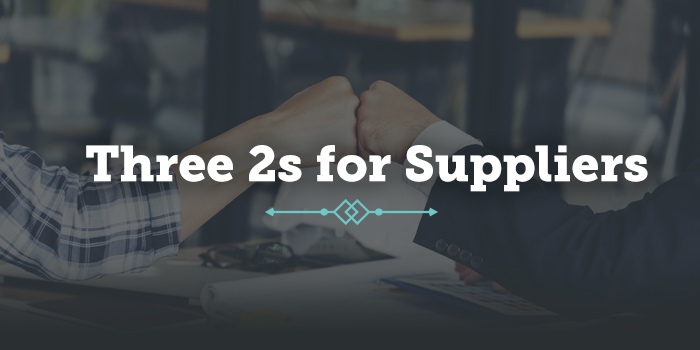 July 2020

Welcome to the July edition of the Three 2s newsletter.

As the country starts to transition into more normalcy and businesss are re-opening and lessening restrictions, it's important to evaluate your marketing strategy. Take a look at distributors that are shifting their business models or those who are targeting new industries. There may be opportunities there for your brand and products.

In this issue we have some key sales tips and we highlight 2 upcoming, trending markets in the promotional products world.

Throughout all of this, remember that ASI is here to help and support you. If you need anything at all, please do not hesitate to contact your Account Executive or Caitlyn, Supplier Specialist at caitlynm@asicentral.com or 215-953-3450.

Sales Tips

Never down-sell competition.



Just keep in mind that your client might already have a trustworthy relationship or have a good opinion about your competitors. By trying to down-sell them, the only message you communicate is fear. I remember when I was working at Trustpilot, 50% of our inbound leads used to come in right after talking to one of our competitors, who was constantly down-selling us. We were very good at closing those leads.
Tips from: Jean-Baptiste Daguené
Understand your sales funnel.



In order to be able to to repeat your success, you need to understand your sales funnel and have as many data points from your ICP in the CRM as possible. So when you do your sales report and look at the bottom of the funnel, you can see what type of clients are moving down and add more of these leads to the top of the funnel!





Tips from:

Jean-Baptiste Daguené
Industry Articles to Read



Big Markets in Promo: Manufacturing & Construction

Drive-In Concerts and Festivals Trending
Videos to Check Out

Have questions about your membership? Want marketing suggestions?
Or call her at (215) 953-3450.
asi/33020
©2020, Advertising Specialty Institute®. All Rights Reserved.
Advertising Specialty Institute, Inc., 4800 Street Road, Trevose, PA 19053
Opt out of this email list or Manage your preferences
Sent to: %%email%% asi/%%ASI_Number%%
302-7765 0720