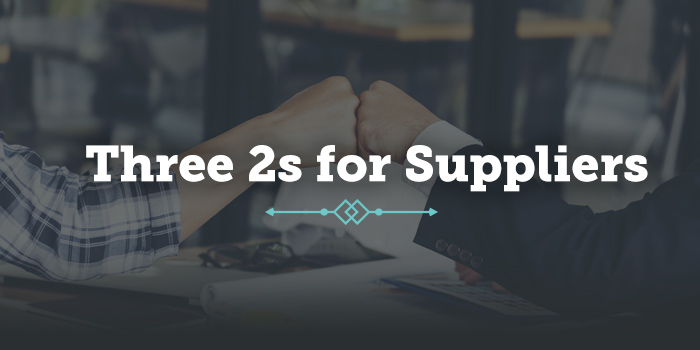 October 2019

Welcome to the October edition of the Three 2s newsletter.

Happy Fall! Cool refreshing weather is around the corner and the Autumn holidays are quickly approaching.

We're all treats and no tricks in this issue! We will uncover effective sales tips from experts in the industry and present ways to improve your digital marketing tactics.


Enjoy!
Sales Tips

Leverage Introductions After Every Sale
One of the daily habits of successful salespeople is to ask for introductions constantly. In fact, some superstar salespeople are even doing it multiple times a day. An introduction is the best path to new business, so use every sale you make as an opportunity to leverage introductions.

from: Marcwayshak.com/blog
Make the Most of the Mobile Office
Remember, there is no better way to live as a salesperson than to be out on the road as much as possible. Mediocre salespeople spend most of their time in the office, but the best salespeople are in front of prospects and clients constantly. They live in their mobile office. What's cool is that in today's world, you can actually accomplish almost everything administratively with just your cell phone and a laptop.

from: Marcwayshak.com/blog
Industry Articles to Read


How To Develop A Sales Routine

Tools To Help Improve Your Digital Marketing
Videos to Check Out



Digital Marketing
for Beginners:
7 Strategies That Work

Have questions about your membership? Want marketing suggestions?
Or call her at (215) 953-3450.