SPONSORED BY


Do you believe in magic? In the first edition of Magic Matt, Staff Writer and Master of Illusion Matt George showcases some summer-themed wearables in his professional magic debut. You'll learn why you should consider adding these garments to your inventory and what markets to target. Click here to watch the video.

What did you think of this video? Send your feedback to cmittica@asicentral.com.

Register for a FREE ASI Education webinar
June 17, 2009, 2-3 p.m. EST
Leverage Web 2.0 Technology: How ASI Builds Relationships Online
Learn how ASI uses Twitter, Facebook, and the Ning.com-based ASI Social Network and Stitches Social Network sites to communicate with members and prospects. In this fast-paced webinar, we'll show you how we leverage easy-to-learn Web technology to reach members and build relationships with them online. Moderated by Nicole Rollender, Stitches editor and director of education for ASI, you'll leave this session with easy-to-implement ways to start reaching new clients online today. Plus, learn how to get more out of your ASI membership.

Click here to register for this free webinar.

[ TRENDS ]

Trend Alert: Summertime Sneakers
Converse All-Stars were first introduced in 1917 as a new and improved basketball shoe. But the shoes didn't grow in popularity until the basketball player Chuck Taylor endorsed them in the late '60s, hence the name "Chuck Taylors." Now, after four decades in the mainstream, "Chucks" are less about athletic capability and more of a retro fad that can be worn in almost any social situation.

The "sole" reason for being so timeless could be because of the shoe's versatility. "Today, Chucks can come in just about any color imaginable and with any design you can think of," says John Orravino, director of sales and marketing at Rothco (asi/83708). "And that's what attracts customers – variety. Whether you're into rock and roll or are looking for a pair for a more formal setting, Chucks will meet everyone's taste."


ADVERTISEMENT


This woodland camouflage hi-top sneaker (5299) from Rothco (asi/83708) bears a striking resemblance to the classic Chuck Taylor sneaker.


Don't believe him? Twilight star Kristen Stewart created a stir at the MTV Movie Awards last week when she paired her red-carpet ready dress with a pair of black Chucks. Some loved it, other hated it, but many in the fashion world were talking about it. With vintage apparel and accessories still in demand, look for Chuck Taylors to fall in the "must-have category" this summer for an end-user's shoe collection.

But you don't have to offer the Converse brand in your inventory. Consider a look-a-like version that will be just as engaging to your customers. "In this industry, not too many companies have a shoe that resembles the classic Chucks," says Orravino. "We offer a pair that has a similar style with a camouflage design on it for that extra throwback appearance." Orravino says the shoes continue to be one of the company's most popular products and advises other owners to consider adding the trend to their footwear stock.

Listen to ASI Internet Radio [asicentral.com/radio]
A team of ASI editors have launched the first ever ASI Internet Radio show. For a half-hour each Tuesday, we debate the most important topics facing the industry, as well as offer an off-beat look at the market.
If you missed any of our shows, don't worry. Recordings are available at asicentral.com/radio. And, don't forget to join us every Tuesday morning 10:30 a.m. Eastern time when we broadcast our radio show live. We'll be taking calls from the audience, so please call us at (215) 953-4979 to hear your voice on the air.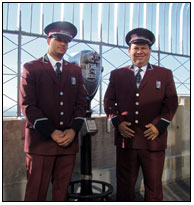 NAUMD Hands Out Image of the Year Awards
I. Buss Uniform Company was among the recipients of the 2009 Image of the Year (IOY) Awards, held during the North American Association of Uniform Manufacturers and Distributors (NAUMD) Annual Banquet and Awards dinner in Las Vegas last month. The winners were selected by an independent panel of judges representing a selection of the fashion industry's most celebrated designers, journalist and fashion authorities.
"We are honored to be recognized by NAUMD for the design of these uniforms for the Empire State Building," says Jennifer Busch, vice president of I. Buss Uniforms. "It was our goal to create a uniform program that stands out as part of the rebranding of the Empire State Building, the world's most famous office building."
Created in 1978, NAUMD IOY awards recognize high achievement in the design, creation and manufacture of imagewear apparel. I. Buss took home the prestigious award by creating a security uniform that would relate to the building's $500 million renovation project to restore the region's number one tourist attraction to its original 1930s glory. The uniforms feature hand-tailored suits, hats, overcoats, ties and classic 1930s styling: chevrons on the sleeves and a custom-dyed "Empire State Building Burgundy" color.
"The IOY awards recognize progressive and leading businesses in several key industries," says Richard Lerman, president and CEO of NAUMD. "This year's winners are an exclusive set of companies who have maintained a competitive edge in their business by placing an importance on the image of their staff. As markets become increasingly competitive, image can make all the difference between a customer gained and a customer lost."
Other 2009 NAUMD IOY award winners include:
Restaurants – Fine Dining
The Wave Restaurant by the Walt Disney World Corporation
Restaurants – Fast Food
McDonald's by Crest Uniform – an Aramark Corporation
Casinos
Aliante Station Casino by Cintas Corporation
Theme Parks & Sports
Magic Kingdom's Mickey's Not-So-Scary Halloween Party by Walt Disney World Corporation
Transportation
Delta Air Lines by Lion Uniform Group
Cruise Lines
Holland America Line by Omega Frontline Apparel, Ltd.
Retail Establishment
Shell by Lion Uniform Group
Health Care
Stanford Medicine Out Patient Center by Cintas Corporation
Hotels – Multiple
Ritz-Carlton Hotel Company by Cintas Corporation
Hotels – Single
Hilton Sante Fe at Buffalo Thunder by Superior Uniform Group
Service/Industry
Mary Kay Inc. by Brookhurst Inc.

Q&A: Barudan America, Inc.
Ansley Spencer is the marketing and tradeshow manger at Barudan America, Inc.
Wearables: How was Barudan founded?
Ansley Spencer: Barudan was founded in 1959 by a man named Yoshio Shaibatea in Japan. In that year, he developed the first embroidery machine. That machine was the beginning of the modern embroidery industry. Since then, Barudan has accomplished a lot. In 1977, the world's first multi-head, computerized embroidery machine was developed by the company. As years went on the company continued introducing new machines – world's first cylinder bed embroidery machine, first chenille machine with a fully automatic color change mechanism and so on. In 1992 the company moved to a 70,000 square-foot manufacturing facility in Solon, OH. Today, Tetsuki Yamaue is the president of the company and he keeps the company goal intact – end-users' satisfaction.
Wearables: What types of products does Barudan offer?
AS: We offer a variety of embroidery machines. From single-head to multi-head embroidery machines, our machines go all the way up to 56 heads. Some of the more popular single-heads are the Elite Pro II, Elite XL, and CO1. We also offer specialty machines, pre-owned machines, parts for machines and softwares.
Wearables: Who is your target?
AS: We work with all types of customers. Whether it's small mom-and-pop shops to larger businesses that need 100 sewing machines, we will work with anybody. And that's a positive thing. We don't sell our machines to a certain customer. A lot of things are being customized today and you will see a lot more monograms. People want everything and anything embroidered. That keeps us in business.
Wearables: What sets you apart from other companies that offer embroidery machines?
AS: Quality and reliability. A lot of our customers have had the same machine for over 20 years. They may have repaired it with different parts, but our machines last a long time. The Barudan machines sew with a Positive Needle Drive Technology. That means that the needle bar pushes the needle and thread into the garment and out as one single unit. That's very uncommon. It can be used through thick fabrics like car mats and leather. We are also direct from a manufacturer; we don't go through a distributor. Customers can deal directly with us.
Wearables: Any advice for embroiderers who want to purchase their first machine?
AS: Do your research! Talk to local embroiders and pick their brains. Find out what kind of equipment will best suit your business. Every machine is different. And when you purchase an embroidery machine, it will be one of your largest investments so you don't want to make a mistake. Even try it out before you purchase it. Find out if it's easy to maintain and work with. After that, the rest is just doing quality work and reaching out to plenty of customers.
[

OUR FAVORITE WEARABLES ]


Badger B-Dry Sportband Polo

Available From: Bodek & Rhodes (asi/40788); (800) 523-2721; www.bodekandrhodes.com

Sell To: This three-button placket, double-needle hemmed performance polo (3340) makes a perfect promotional pitch to athletic personnel: sporting coaches, gym goers, bicyclists or anyone looking to work a sweat! It's available in eight colors, sizes XS-6XL.

Style Tip: The shirt's tipped knit collar and sleeve cuff makes it unique to the end-user. The tipped colors match the color of the sportband.


[ NEWS BRIEFS ]
AnaJet Inc. announced a new Direct-to-Garment printer model, the SPRINT Digital Apparel Printer. It incorporates a new print head, print engine, Auto Print Head Maintenance and the company's Closed Loop Ink Delivery System for garment printing.
Cotton Incorporated, the research and marketing company for U.S. cotton, has launched two sustainability-oriented Web sites: Cotton Today (www.cottontoday.cottoninc.com), a resource chronicling the continuing environmental advances and research of the cotton industry, and www.CottonFromBlueToGreen.org, an online vehicle for the company's denim recycling program.
| | | |
| --- | --- | --- |
| Imprintables Warehouse has announced the winners of its Spectra Patterns contest. First place winner was Bridget VanGinkel, who used Spectra Patterns to decorate a doll house including bed spreads, wall paper and doilies. She won a Hotronix Auto cap press with standard and children's size platens and 10 yards of Spectra patterns material. | | |
Penn Emblem Company (asi/62485) has announced that Penn Sports Patches, a division of Penn Emblem, has launched a new Web site. It can be found at: www.sportpatches.com.
Phillips-Van Heusen reported Q1 revenue of $557.4 million in 2009, a decrease of 11% compared to 2008 Q1.

SanMar (asi/84863) has introduced Caps and Bags, a new 60-page brochure that focuses exclusively on the company's extensive collection, including 16 new caps and 16 new bags.

[ ASK AN EXPERT ]

Question: My customer is looking for two things: Silk scarves and table umbrellas. I've tried my ESP online but haven't found anything. Looking forward to your reply!
Answer: For the scarves, check out Wolfmark (asi/98085); (800) 621-3435; www.wolfmarkties.com. Product 026-830-330 is a lime green soild 100% silk square scarf. They carry a lot of additional colors that should work for your customer.

Also check out KTP Design Company (asi/63773); (888) 465-1290; www.asisupplier.com/ktp. They also offer a variety of silk scarves including product KA-1, a custom silk scarf produced using the wet dye process, which endures an elegant design with supurb color.

As for the umbrella, look at 365wholesale.com (asi/91242); (877) 834-4389; www.365wholesale.com. Product 75139 is a clip-on umbrella that has an adjustable clamp and can be easily clipped onto a table or chair.

Also look at the umbrellas offered by Nicamaka Distributors (asi/73927); (866) 377-1224; www.buyhammocks.com. They offer a bunch of different umbrellas including product Neo95w, a market style umbrella with wood frame for indoor or outdoor use that could easily cover a table.

Style Tip: If you plan on hosting a company event outdoors, incorporate table umbrellas with your company logo placed on them. Every time an attendee will journey to get a snack on the table, they'll be reminded who's hosting the entertaining party.

Question: I have a customer looking for a soft-shell jacket, but would like a hood on it. I haven't seen anything like this. Could you lead me in the right direction? Thanks for your help!
Answer: For a ladies soft-shell hooded jacket, try Stormtech USA Inc. (asi/89864); (888) 876-5797; www.stormtechusa.com. Product B-1W is a three-in-one waterproof jacket with a soft shell and fleece lining that has a detachable hood.

Next try Whiteridge Inc. (asi/97061); (866) 463-4441; www.whiteridgeinc.com. Product 967 is a soft shell/rip stop jacket with a waterproof tuck-away hood. Also look at product 982 – a ladies version 4-in-1 winter jacket with a soft-shell jacket and tuck-away hood. A men's version is listed as product 981.

Finally try Gemini Fashion of Canada (asi/56210); (866) 864-6065; www.mobiuscorporate.com. Product 4057-87 is a women's soft-shell jacket with a removable hood. Product 4058-97 is the water- and wind-resistant men's jacket.

Style Tip: If you have clients who spend their summer days at sea, present them with a soft-shell hooded jacket with your company logo on it that's wind- and water-resistant. When they're out reeling in a big fish, you'll continue to reel in their business.


[ WEARABLES TERMS ]
Getting familiar with these terms will make any ad specialty distributor look like an apparel expert.
Automatic Color Change: The ability of a multi-needle commercial embroidery machine to follow a command to change to another specified needle with a different thread color.
Buckram: Coarse, woven fabric stiffened with glue, used to stabilize fabric for stitching. Commonly used in caps to hold the front panel erect.
Hand: The way the fabric feels when it's touched. Terms like softness, crispness, dryness and silkiness are all used to describe the hand of the fabric.
Thread Clippers: Small cutting utensil with a spring action that's operated by the thumb in a hole on the top blade and the fingers cupped around the bottom blade. Useful for quick thread cutting, but unsuitable for detailed trimming or removal of backing.

[ SHOW LIST ]
June 12-13, Louisville, KY
Embroidery and Direct to Garment Extravaganza
(813) 846-6031; www.swfeast.com
June 14-17, Marlboro, MA
New England Apparel Club Show
(781) 326-9223; www.neacshow.com
SPONSORED BY


Wearables Style and Wearables are trademarks of the Advertising Specialty Institute. You were sent this newsletter as a benefit of your ASI membership. Copyright 2009, ASI. All Rights Reserved.
If you'd like us to send Wearables Style FREE to anyone else at your company (or to your off-site sales reps), go to www.asicentral.com/newsletters and complete the online form.
Interested in advertising in Wearables Style? Send an email to ddienna@asicentral.com
Click here to subscribe to Wearables™ magazine. You must be a member of ASI to subscribe to this publication. The publisher has a right to refuse subscriptions to non-members.
Advertising Specialty Institute®, 4800 Street Road, Trevose, PA 19053