Compliments of .



| | |
| --- | --- |
| promotional products • incentives • corporate gifts • meetings • events | Volume 73 / April 2012 |

Promo Products Boost Beverage Sales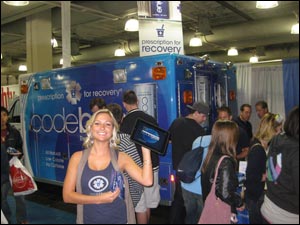 College students are known for their ability to work hard and play hard. So it's no surprise that the makers of Code Blue, an all-natural recovery drink, wanted to target the college demographic in a recent marketing blitz.
In an effort to appeal to this important segment of the market, the company loaded up its brand-new Code Blue Recovery Ambulance with the drink and branded merchandise and traveled to Boston for CollegeFest, an annual back-to-school gathering for college students.

Code Blue wanted to build on the great feedback it received at its first CollegeFest appearance a year earlier, as well as reach incoming freshmen, expand its existing campus-rep program and add fans to its Facebook page, says Code Blue Founder and CEO Jeff Frumin.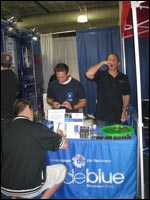 Part trade show, part festival, the 25-year-old CollegeFest brings together more than 17,000 brand-loyal students and connects them with nearly 100 national and local brands; promotional items and prizes are given away, and live music performances entertain the crowds.
"Kids love the free stuff and leave with bulging swag bags," says Vincenzo Saulle, vice president of business development at Mr. Youth, the youth marketing agency that owns and organizes CollegeFest. In addition to elevating brand awareness, CollegeFest is a great way to discover students' likes, dislikes and how they respond to the brands that exhibit there, Saulle says. The event is always held in Boston, home to nearly 200,000 college students – one of the largest student populations of in the country.

The beverage sector is the most competitive sector at CollegeFest, says Saulle. "Kids are the right age for the beverages, and the show is a good place to give away large numbers of drinks to concentrated numbers of students," he says. Typically 20 to 30 drink brands, including energy drinks, waters and teas, exhibit at the show each year.
ADVERTISEMENT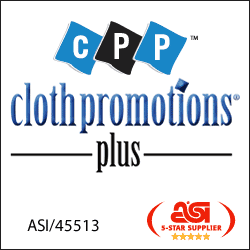 Code Blue's CollegeFest setup centered on the branded Recovery Ambulance, equipped with large coolers filled with ice-cold cans of the beverage. Reps handed out free medicine-cup samples of Code Blue, and every student who registered received a full can of the recovery drink. Every half hour, a drawing was held for a Code Blue Recovery Kit, containing branded medical scrubs, a T-shirt, a hat and a six-pack of Code Blue. Prizes of a semester's worth of Code Blue were also awarded. The Recovery Kits were very popular, and Code Blue gave students the opportunity to register on Facebook to win one.
Between 5,000 and 6,000 "prescription" flyer cards providing detailed information about the product, along with coupon books, were distributed at CollegeFest. There was significant Code Blue branded signage, and two of the three company founders attended, along with some campus reps and marketing staff. Four social-media reps carried branded Code Blue iPads to register students and take photos in front of the ambulance to post on Facebook. Students could comment and immediately share photos with friends.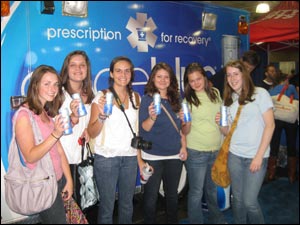 Frumin says education about the product, especially the recovery concept, is critical to the success of Code Blue, which he calls a "healthier, more functional Gatorade. Students are interested in what is healthy." He notes that Code Blue is made with natural ingredients like vitamins C, B12 and B6, and has three times more electrolytes than Gatorade. In addition, it's the first ready-to-drink beverage containing sustamine, a liquid glutamine that aids muscle recovery. "Code Blue is not an energy drink," Frumin says. "Rather, it's more about hydration."
While the company focused on the sports-recovery message at CollegeFest, Frumin says, reps also told students they could use the drink any time they were dehydrated (read: hungover). Indeed, the informational hangtag on the Code Blue can reads, "Feel Better Faster."
The appearance at CollegeFest gave company sales a shot in the arm; sales doubled in nearly every account following the event, with some accounts witnessing a tripling of sales. Sales jumped 50% in the two weeks following CollegeFest, largely due to the brand's appearance there, students returning to campus and general Code Blue marketing efforts, says Frumin. In addition, Code Blue doubled its number of campus reps to some 50 students, and Frumin received "countless" inquiries via e-mail; most were along the lines of, "Hey, I saw you at CollegeFest, where can I buy you?"
VIDEO

THE JOE SHOW
The Joe Show reveals some of the latest products and promotional ideas available in the market today. Click here to see a brand-new edition of The Joe Show.

ADVERTISEMENT



ADVERTISEMENT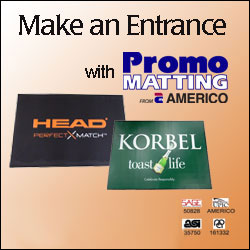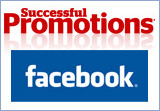 Win $100 & Gain Access to Great Ideas
Sign up now and enjoy The Joe Show, where our very own Joe Haley features cool new promotional product ideas. Access case studies in every industry that showcase the hottest new marketing campaigns. You can even submit your own case studies and be eligible to win a $100 MasterCard gift card. Plus, network with other businesspeople looking to pump up their marketing efforts. Click here to get started today.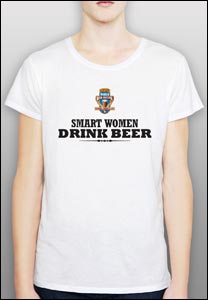 T-Shirt Helps Increase Attendance At Beer Fest
Organizer Bill Steigerwald had great results promoting the World Beer Festival in Columbia, SC, by using a creative combination of guerrilla marketing, social media and promotional merchandise.
The festival celebrates the world beer culture and provides samples from almost 100 breweries, as well as educational sessions led by industry experts, local food and entertainment.
ADVERTISEMENT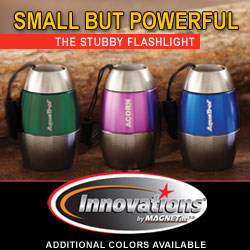 Together with an agency, Steigerwald advertised the January event with an eight-week holiday blitz. Rather than just focusing its ad efforts on men, the team expanded its campaign to target women.
One of the promotional products that helped get the word out was a T-shirt featuring the World Beer Fest logo and the line "Smart Women Drink Beer."
"We were able to position within the campaign that smart women drink craft beer," says Doreen Sullivan, president of the agency. "We also created posters and shot glasses for the festival."
Clearly the products to promote the event helped, as attendance at the beer fest was up 40%.
Do you have an event that you'd like to promote to help increase attendance? Contact your ad specialty distributor for the perfect products and the best way to use them to fulfill your goals.
| | |
| --- | --- |
| | Scratch‐off cards are an inexpensive, proven promotion vehicle; that will add excitement to your promotion. Restaurants encourage repeat visits by handing out with each check, retailers drive early bird sales with a mystery discount promotion. Need an idea? |
New, exclusive from ALL-IN-ONE® Brand Gear™!
Durable, soft Neoprene 10" zipper sleeve protects your iPad and features a huge imprint area to advertise your brand! The sleeve also works with other popular tablets or with Windows netbooks with screens up to 10". From ALL-IN-ONE® • asi/34256.


Wearables
If your company is sponsoring a golf tournament, a charity walk, or even a cycling event, there are plenty of performance apparel options to meet your needs.
IN ANY WEATHER Men's polyester quarter-zip windshirt is windproof and water-resistant. Features standup collar with contrast color inside and several pockets. Available in several color combinations and in sizes S-2XL. asi/82588
GOLF GAME The Pro Stitch cap is made of 100% cotton and features contrast stitching on the bill, a snap-buckle closure and the signature Callaway logo in 3-D embroidery on the front. Available in three color combinations. Ideal for golf and corporate promotions. asi/88877
RIDE A BIKE Cycling jersey is fully customizable and features breathable moisture-wicking polyester AIR SURF fabric, three rear cargo pockets, elasticized waist and reflective elements for increased visibility. Great for charitable cycling events. asi/63104
GAME TIME MVP Jersey is made of 100% high performance breathable pinhole mesh. Features four-way stretch and moisture-wicking properties. Available in 11 color combinations. Ideal for gym promotions. asi/37461
HERE COMES THE SUN Convertible shorts are made of stain-resistant 100% Nylite nylon and feature UPF 50+ sun protection, deep front pockets, full elastic waistband and a secure back pocket. Think beach and spa promotions. asi/88796
BATTER UP Six-panel baseball cap is made of 100% polyester with accents made of recycled plastic polyester. Features a structured crown, contrasting button and eyelets and precurved visor with sandwich. Available in 15 color combinations. Consider school and athletic promotions. asi/75420
marketing calendar ••• July 2012
ADVERTISEMENT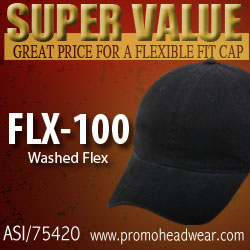 National Grilling Month
There's nothing quite like cooking outside over an open flame. And whether you prefer propane or charcoal, grilling can be rather communal. July is perfect for a month-long promotion for a whole host of industries – grill manufacturers/retailers, deck/patio builders, homeowner associations, and any company wanting to promote goodwill. Besides hosting grilling events to entice potential customers, one can incent them with appropriate logoed gifts like steaks, grilling tools, aprons and oven mitts, grill covers, coolers, etc.  Your distributor has the know-how to help launch a successful event.
4
Independence Day
What better way to show your patriotism than by being part of a 4th of July celebration? Any company can garner goodwill by volunteering for parades and handing out imprinted noisemakers like clappers. Or, you can walk the route and hand out American flags and logoed bottles of water to the masses. Later in the evening, give away fireworks-enhancing glasses that include a detachable coupon that can be used for a discount on products or services.
ADVERTISEMENT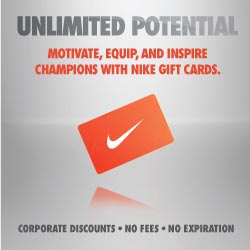 13
Embrace Your Geekness Day
Are you a self-described nerd? Did you play Dungeons and Dragons, read the Lord of the Rings trilogy more than once, collect comic books, etc.? If so, then today is your day. Celebrate with a promotion that lets you be you. It's ideal for tech companies, computer repair companies, comic book stores, etc. Fun products to give away include computer-shaped stress relievers, pocket protectors and novelty "nerd" glasses. Your distributor can help with all the details.
26
National Chili Dog Day
There's a diner in Lock Haven, PA, called the Texas Restaurant that serves the world's best chili dog. However, if you can't get there, today is the day for you to host a picnic for employees, vendors and clients. And naturally you will be serving up chili dogs for all. Treat guests with gifts like logoed cups, BBQ sauces, and other picnic-and hot dog-related promotional products.
ADVERTISEMENT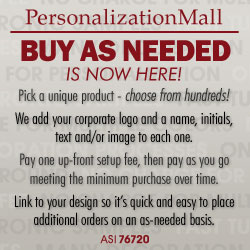 Solve This Dilemma
Every month, Successful Promotions launches a new contest where we ask you, our readers and Facebook fans, for your most creative ideas for solving businesses' dilemmas. Each entry should be 50 words or less, and a promotional product must be part of the solution to the challenge. Send all entries to jhaley@asicentral.com by the specified deadline in order to qualify for a free gift. Winners will be randomly selected from all entries.
School Daze. After 75 years in a storied building, a new elementary school is set to open. It has all the updated amenities and is completely high-tech. And while families are happy to be moving on, they are sad to say goodbye to an old friend. As part of the celebration, an open house at the new school will be held where families can purchase a brick from the old school after it's been demolished. In addition, they want students to feel welcome and happy in the new facility and want each to receive a gift during the open house. What can the school give them that honors the past, looks to the future and emphasizes school spirit? Send your best ideas to jhaley@asicentral.com by May 13, 2012.

Our new Tag2spin™ allows six prizes to be awarded by the spin of our digital mobile prize wheel. Capture participant contact data.

• Set up in 5 minutes • Branded with your logo
• Unique redemption number • additional custom features
asi/57851

Great gift or give away for Mother's Day! Four Piece Nail Polish Gift Set inserted in your choice of purse bag. Each bottle holds .50 fl Oz.-15mL of salon quality nail enamel. A single one color imprint on each bottle is included in price. Imprint area 3.5" X 1.25" wraps around bottle. Choose from 150 assorted nail shades. Imprint color: black, white, gold or silver Cap color: black, white or silver. Purse bag colors and patterns: garnet, bamboo, chrome, chocolate, zebra, glossy white, leopard, gold dust, glossy black, and kraft. Production time: 6-8 weeks. All products made in USA. asi/49640

IDPaspinline serves up the best Deals and outrageously low Lapel Pin prices. FREE setup, FREE shipping, FREE proofs and all-inclusive pricing with no hidden fees! Priced as low as $0.67. ASI 5-Star Supplier. asi/62088

These magnetic memo boards come with a wet erase pen and clip to give your customers a place to write notes AND 4 coupons to keep them coming back to see you!
asi/68507 / Magnet LLC, a division of The Magnet Group

Nurses Week is May 6-12.
Honor those who tirelessly nurse us back to health with a delicious gift of snack-sized Sprites in eight fudgy flavors. This gourmet box of treats is just what the doctor ordered! asi/53518

Introducing our premium silicone bands with brand new super low prices and 5 day rush available. All inclusive low prices include shipping, setup and proofs. Our silicone bands are perfect for schools, sports teams, businesses, charity fundraisers and individuals to raise funds and advertise products in a fashionable way. Get them now as low as $0.38. asi/62088

Successful Promotions® is a trademark of the Advertising Specialty Institute. Copyright 2012, ASI. All Rights Reserved.
Advertising Specialty Institute®, 4800 Street Road, Trevose, PA 19053