Successful Promotions Trend Report
THE JOE SHOW: HOT NEW PRODUCTS
The Joe Show is a weekly video program where Managing Editor Joe Haley presents and demonstrates a variety of ad specialty products. He also offers useful tips and information on how they can be used in ad campaigns and other promotions. This collection features new products being offered by your distributor partner. Click here to see a brand-new edition of The Joe Show.
Win $100 & Gain Access to Great Ideas
Successful Promotions magazine now has a Facebook fan page! Sign up now, and enjoy The Joe Show, where our very own Joe Haley features cool new promotional product ideas. While you're there, access case studies in every industry that showcase the hottest new marketing campaigns. You can even submit your own case studies and be eligible to win a $100 MasterCard gift card. Plus, network with other businesspeople looking to pump up their marketing efforts. Click here to get started today.
Super-Hot Video Promotion
Fans Try Their Hands at Being the King of Pop
The new video game, Michael Jackson: The Experience, invites players to test their moonwalking skills and other Michael dance moves. But to give shoppers an even more authentic experience, Ubisoft, the publishers of the game, bundled the first shipments of the Wii versions of The Experience with a replica of The King of Pop's iconic sequined glove.
Working with the Michael Jackson estate and Bravado, the company that creates much of the other licensed merchandise for the artist, Ubisoft developed a product that would appeal to gamers and die-hard King of Pop fans alike.
"There are MJ gloves available online, but this we wanted to make custom so the only way to get it is to buy the game," says Tony Key, senior vice president of sales and marketing for Ubisoft. "If they don't have a Wii, a Michael fan might buy this anyway – though we'd hope this might get them to also start playing the Wii."
Key declined to say how many gloves were produced for the promotion, but the giveaway attracted plenty of buzz. The effort was aimed at stoking pre-sales and first-week sales of The Experience, which was released on November 23 for Wii, Nintendo DS and Sony PSP, in time for the Thanksgiving holiday. The game will be available for Xbox 360 and PlayStation 3 in early 2011, so the promotion helps encourage buyers to grab up the (more expensive) Wii version rather than the competitors.
Besides generating buzz for the Wii game, Key adds that the glove is also just a lot of fun for players to use. "People could use it as a prize for winning the game – if you beat your friend you can wear the glove around the house or something," says Key. "It's not Michael's $20,000 tour glove, so that's OK to do."
Check out the Shopping List below for some cool winter promotional products.
Creative Consumer Campaign
Kleenex Lets Customers Give the Gift of Softness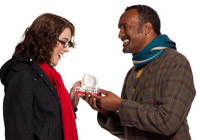 Just in time for flu season, Kleenex rolled out its "Softness Worth Sharing" promotion that invites consumers to send a free small box of the facial tissues to a friend or loved one. By entering their name, address and e-mail address on the company's website (and opting in or out of Kleenex's e-mail list), the consumer can have a colorful Kleenex box mailed out with a personal 50-character message.
The campaign aims to not only boost the number of members on Kleenex's e-mail list, but also to promote the brand – and its softness – during flu season.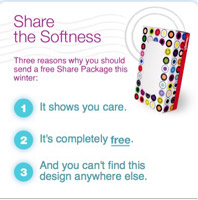 "Time and time again we have seen that softness is the number-one thing people want in a tissue," says Ken Champa, a member of the Kleenex brand marketing team. "We know that when people experience something great – like the softness of a Kleenex-brand tissue – they're naturally inclined to share it, and we want to make that sharing fun and easy."
The program kicked off on September 26 and runs through March 31 at www.kleenex.com/softnessworthsharing. Kleenex is raising awareness of the program through national print and TV ad campaigns, online advertising, blogger relations and more than 900 in-store promotions. As of mid-November, the company had already sent a whopping 580,000 care packages throughout the country.
"We have been thrilled that so many people have not only had an opportunity to experience the superior softness of our tissues, but enjoyed sharing them with others," says Champa. "We hope to reach all of those seeking relief from their symptoms by providing an incredibly soft tissue and the warm feeling that you get from sharing something great with your friends and family."
Contact your ad specialty distributor for more information on the products below.
| | | |
| --- | --- | --- |
| Customer's Picture + Brand's Logo = Promotion Success! Generate thousands of brand iImpressions. asi/42989 | | FEMININE FLEECE Fashion-forward female reps will adore this Urban fleece accessory set. It includes a 100% polyester fleece beanie-style hat and a thin fashion scarf. Available in 19 colors. asi/53509 |
| USE YOUR NOGGIN Custom-designed knit hat is made from 100% acrylic yarn and can feature a top tassel or regular beanie style with fold-up brim. Made in the USA. asi/97595 | | THE SKY'S FALLING Young and hip vendors will appreciate this acrylic board torque. It features a snowflake design and is made with a Jacquard knit. Available in four color combinations. asi/30271 |
| WORKIN' 9-5 Any employee could use this stainless-steel double-walled desk mug. It has a screw-on lid with easy one-hand open and close. Mug also features a non-slip bottom. asi/37930 | | TIS THE SEASON An ideal giveaway, this double-walled acrylic tumbler holds 16 oz. of liquid. It includes a candy cane straw and candy canes inside. asi/57800 |

Solve These Dilemmas
Every week Successful Promotions will launch a new contest where we ask you, our readers and Facebook fans, for your most creative ideas for solving businesses' dilemmas. Each entry should be 50 words or less and a promotional product must be part of the solution to the weekly challenge. Send all entries to jhaley@asicentral.com by the specified deadline in order to qualify for a free gift. Winners will be selected randomly from all entries.

Week 1 Contest: From December 13 to December 19
Losin' It. A manufacturing firm with over 1,000 employees is starting a health and wellness campaign at the beginning of the year. They want their employees to get in shape and be more healthy through diet and exercise. They're looking for a creative way to announce the promotion, as well as a number of products to deliver to each employee when they reach certain goals.
Week 2 Contest: From December 20 to December 26
Feed The Hungry. A local organization that helps the disadvantaged is staging a "camp-out for hunger" event to collect food to replenish its depleted warehouse. They would like to give any group that donates in excess of 500 pounds of food a token of their appreciation. As they are a nonprofit, money is tight, so their small budget should be taken into consideration.
Week 3 Contest: From December 27 to January 2
Sun & Sales. A CPA firm with offices throughout the U.S. is hosting a sales meeting in sunny Florida. Besides group meetings and brainstorming sessions, there will be golfing and team events like relay races and an obstacle course. The firm wants a variety of products to announce the event as well as to use throughout the four-day stay.
Week 4 Contest: January 3 to January 9
Going Green. With St. Patrick's Day right around the corner, a neighborhood watering hole wants to attract as many revelers as possible. What can they do to get the green-wearing crowd into their establishment on March 17?
Successful Promotions® Trend Report™ is a trademark of the Advertising Specialty Institute. Copyright 2010, ASI. All Rights Reserved.
If you'd like us to send Successful Promotions Trend Report FREE to your colleague, click here and complete the online form.
Click here to subscribe to Successful Promotions® magazine. The publisher has a right to refuse subscriptions to non-qualified subscribers.
Advertising Specialty Institute®, 4800 Street Road, Trevose, PA 19053