ASI NEWS

Take the State of the Industry Survey
This valuable survey takes 10 minutes and earns you a chance at great prizes.
Find out more...

Top 7 St. Pat's Promo Products
Video and pics of ASI's first list of Irish-themed products for March ad campaigns.
Find out more...

ASI STORE
Find, review, and purchase the latest exclusive ASI products...
Find out more...





Proforma Signs Deal To Add 100-Plus Salespeople
Counselor Top 40 distributor Proforma (asi/300094) announced this morning that it has signed an agreement with Global Source Link, an industry service provider with more than 100 salespeople in its network. Those 100-plus salespeople will now become individual members of the Proforma network.

"We are excited to have the Global Source Link professionals join our team," said Greg Muzzillo, founder of Proforma. "This is a key step in Proforma's goal of becoming the preeminent brand in the industry through increased awareness and support across a wide demographic."

ADVERTISEMENT

ADVERTISEMENT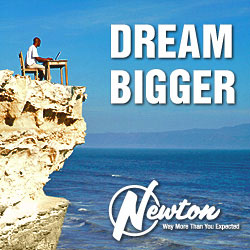 As a result of this partnership, Proforma expects to add more than $30 million in annual revenue to its operations. The company ranks as the second-largest distributor organization in the market, and realized total 2009 North American ad specialty revenues of $234 million, a 4.9% decline from 2008. The company has more than 730 independent offices throughout North America.

The deal with Global Source Link will now expand the company's industry revenues even further. "Proforma is the ideal fit for Global Source Link. This partnership will help each one of the GSL sales professionals increase sales by providing them with additional tools and resources," said Michael Del Chiaro, president of GSL. "We are confident that this will be a win-win situation for Proforma and GSL."

ADVERTISEMENT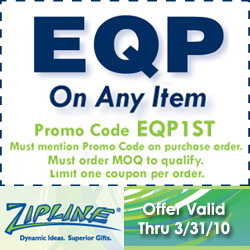 Corvest Acquired By Investment Group
As first reported on Friday in a Counselor PromoGram Breaking News Alert, Top 40 supplier Corvest has been purchased by an investment group led by entrepreneur Bernard Findley, owner of Siglo Holdings. Terms of the deal were not disclosed, but Siglo did assume liabilities as part of the transaction. Findley, who a decade ago co-founded a promotional products firm called The Buzz Group, has been installed as CEO of Corvest, while all other existing managers will retain their titles. "Our goal now will be to re-market the company and focus on customer relationships," said Findley yesterday, in an interview with Counselor. "We will be evaluating the current business model of the company and appropriate steps will be taken. Those steps won't be dramatic, I don't think."
Findley would not speculate about potential layoffs, saying instead that he has inherited "a great team" of employees. When asked about Corvest's financial standing prior to the acquisition, Findley declined to comment. Findley did confirm, however, that Corvest will continue to operate from its current facility in Largo, FL, while adding warehouse, distribution and office space in Santa Fe Springs, CA, and Tijuana, Mexico. "We plan to make enhancements to our product line," said Findley, who purchased Corvest along with a small group of unnamed inventors. "We'll also be able to reduce lead times and provide better service."
Prior to his stint at The Buzz Group, Findley served as chief financial officer at Doctor's Research Group and controller at National Retail Services. When Findley helped lead The Buzz Group, the company focused on providing branded promotional items to the pharmaceutical industry. Findley sold his share of The Buzz Group in 2003 to pursue other business opportunities. "I had been looking to get back in the industry over the last couple of years," Findley said. "As an industry, I feel like the hardest times are behind us."
Corvest, which is the parent company of Adva-Lite (asi/32145), It's All Greek To Me (asi/62960) and Toppers (asi/91530), is the 19th largest supplier in the market, reporting 2008 revenues of $71 million.

ADVERTISEMENT

Fire Destroys Supplier Factory
A large accidental fire decimated the historic flagship site of supplier Wendell August Forge (asi/37457) on Saturday, destroying the company's Grove City, PA, factory and gift shop. About two dozen employees and 15 tourists were able to escape the fire unharmed. Despite several million dollars in estimated damage, the company has already announced plans to rebuild. "It was a landmark, and it will be a landmark once again," said Will Knecht, president of Wendell August, to the Associated Press. "We are so thankful and blessed that no one was hurt."

Officials believe the fire began in the company's workshop, where a vent fan likely malfunctioned as employees were spraying lacquer. Although the fire spread quickly and led to a partial building collapse, more than 200 unique dies were spared in a protected vault.

Established 90 years ago, Wendell Forge moved its main facility to Grove City in the 1930s, with workers producing ornaments, trays, bowls, figurines and other customized products manufactured to become heirlooms. The metal forge, which is listed among the National Register of Historic Places and is frequently visited by tourists, made ashtrays for the Hindenburg and produced custom pieces for companies like Coca-Cola, Hershey's Chocolates and Walt Disney. Two items manufactured at Wendell Forge are in the Smithsonian.

In 1978, the company first listed with ASI, producing awards, coasters, key tags and commemorative plates. Until its main site is rebuilt, Wendell August will manufacture personalized metal pieces at its Exton, PA, workshop. The company's business-to-business division will also continue to function and orders are still being accepted through Wendell August's Web site.

ADVERTISEMENT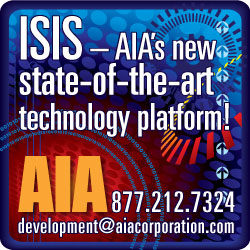 Tuesday Morning Radio Show Live On The Air


Every Tuesday morning from 10:30 a.m. eastern time to 11:00 a.m., a team of ASI editors debate the most important topics facing the industry. We also, of course, offer our own off-beat look at the market. This morning, we revealed the states with the healthiest economies, offered tips to improve customer service, and talked about why nice guys finish last in the workplace. Plus, we even took calls from audience members looking for ways to increase their sales of eco-friendly items.
If you missed the show, don't worry. A recording is now available at www.asicentral.com/radio. And, don't forget to join us next Tuesday, March 16, for our next broadcast. Log on to www.asicentral.com/radio at 10:30 a.m. eastern time and give us a call at 215-953-4979. We want to hear from you!

ADVERTISEMENT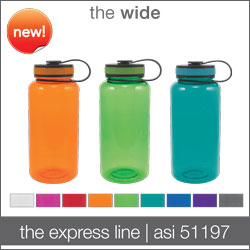 Supplier Crafts Item For Smithsonian
Country music star Kenny Chesney called it the most beautiful gift he'd ever received. Completely customized and hand-sewn, the gift was a CD holder book that contained every piece of music he had ever performed. It was given to Chesney during a private ceremony at the Country Music Association (CMA). "The project was brought to us last year by Larry Lusky of Halo/Lee Wayne (asi/356000)," says Patrick White, vice president of marketing for Rustico (asi/84264). "We were told that Kenny Chesney just loved it. The book had all 80 of his CDs."
The folks at Rustico, who often design high-end items for celebrities and films, considered the project another success. But there soon was more work to be done. "We were contacted again by the distributor who told us that the Smithsonian was going to have a permanent exhibit for the CMA," says White. "We were asked to create an identical CD book to be part of the exhibit. We just shipped it."
Made with genuine leather and stitched by hand, the book looks like a large photo album, with room for four CDs on each page. "It's special because the Smithsonian chooses pieces that represent the country," says White. "They're looking for quality pieces. We're able to provide gifts that have staying power and are keepsakes."
In addition to the CMA piece, Rustico's items have also been used in movies like Angels and Demons and shown on the TV show Extra.

ADVERTISEMENT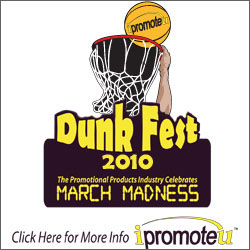 The Joe Show: Product Design Awards Finalists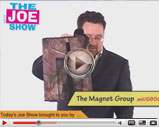 In this episode of The Joe Show, Counselor Managing Editor Joe Haley shows off some of the finalists in Counselor's Product Design Awards competition. This annual awards program highlights the most unique and interesting items that suppliers launch into the market.

Click here to see this Product Design Awards edition of The Joe Show.

And, click here to vote for the products that you think are the best designed, considering both aesthetic appeal and functionality. You can select up to three products in each of the 13 featured categories.

Want more videos? Subscribe now to our YouTube videos.

Take The State Of The Industry Survey
Counselor is currently polling professionals in the industry – both distributors and suppliers – to see how the market did in 2009 and to get impressions on where the industry is headed in 2010. We need your input. Please take some time to click the appropriate link below and complete the annual State of the Industry survey. Your responses will remain anonymous and you'll be helping to create Counselor's annual State of the Industry report.

Distributors click here to take the distributor State of the Industry survey.

Suppliers click here to take the supplier State of the Industry survey.

ASICentral: Hottest U.S. Sales Regions
Of the four major U.S. regions (Northeast, South, Midwest, West), which do you think did the best in overall promotional products sales in 2009? What were their top markets and hottest items?

Get answers to these questions and more. Plus, check out our cool, interactive map feature in this month's Advantagesmag.com.


Got questions, comments or any type of feedback regarding anything ASICentral, don't hesitate to contact us at feedback@asicentral.com. Also, follow ASICentral at:
.

New Course Available On ASI Education's Online Learning Center
Be sure to register at http://www.asicentral.com/asionlinelearning for some exciting new courses available exclusively to ASI members. Brought to you by ASI Education, Online Learning is the newest and most convenient way for distributors to get educated.

NEW: Social Networking Tactics That Get Results
Social networking for business? Lots of businesses are using social networking sites such as Twitter, Facebook and LinkedIn; creating videos and podcasts; and using blogs to connect with prospects and clients. We'll cover all of these cool, social media tools in this course, so when you're done, you'll have an overview of which ones might be right for promoting your business. Register now!
Coming Soon:
* Business Management for Distributors: Customer Service Tactics to Increase Sales and Increase Market Share

In The News
Aprons Etc. (asi/36558) announced that it is celebrating its 25th anniversary in 2010.
Charles River Apparel (asi/44620) has announced that it is partnering with Circle of Hope, a charitable organization, to aid relief efforts in Haiti. Charles River is also providing 5% of its February profits from selected apparel styles to Partners in Health, a non-profit global health care provider.
Design Your Recognition (asi/48051) has launched a "Tip of the Day" feature in the news section of its Web site. The tips are short video advice segments offered by authors and trainers like Zig Ziglar and Tom Hopkins. For more information, go to: www.designyourrecognition.com.
Heritage Sportswear Inc. (asi/60582) will host its Big Idea Show on Thursday, April 22, at the Hyatt Regency in Columbus, OH. The event will include product exhibits, education, networking opportunities and live music.
Howard Miller Company (asi/61943) recently announced its 2009 Sales Representative Award winners. They are: Barry Gorman (Directors Award); Sharon Murphy (Top Trophy Sales Award); Michele Jennrich (Top New Account Award and Top Hekman/Woodmark Sales Award); Gil Cabble (Top Sample Sales Award).
Numo Manufacturing (asi/74710) is offering distributor salespeople 25 free Pocket Coolie can holders to use as self promotion items. To receive the items, go to:
www.numomfg.com/Order-Form/Free.
Starline (asi/89213) is holding a St. Patrick's Day-themed "Find The Shenanigans" contest on its Web site from March 15-17. For details, go to:
http://us.starline.com/view/page/form/en-us/us/shenanigans.
Sweda Company LLC (asi/90305) has announced it was named as one of the top five Suppliers of the Year for 2009 by Staples Promotional Products (asi/120601).
The Andrew Philips Collection/Millennium Leather LLC (asi/36205) announced that it has been experiencing intermittent telephone troubles since March 1. If you are having difficulty reaching the company by phone, send an e-mail to: philip@andrewphilips.com.
Wisconsin Specialties (asi/98010) has introduced an updated Web site found at: www.wispecialties.com.

People On The Move
Crystal D (asi/47759) has promoted Bridget Dahlgren to marketing manager and Joey Stupak to art lead. The company has also hired Vivian Roff as an order manager and Danielle McDowell as an awards advisor account manager in charge of the East and West regions.
Deluxe Corporation (asi/316203) has appointed Forrest Fairley to the position of director of image products.
Superex (asi/90231) has hired Kevin Hill of the Abednego Agency to provide sales representation in British Columbia, Canada.
WorkflowOne (asi/333647) has named Tom Rizzi as vice president of promotional products.

EmailExpress SUPPLIER SPECIALS
<!—Begining of generated Content for 03/02/2010 to 03/08/2010-->

Hot Styles From Bella asi/89380 - Still family owned and operated... since 1981 View Special...
Elite4Print.com offers business cards for $7.99!!! asi/51916 - Elite4print.com believes in offering the lowest price for great products. Our print experts will guide your towards a solution. We have competitive pricing, wonderful customer service, more products and great quality! View Special...
Unlock Today's Printing Secret asi/63058 - Register today on www.justPrintonline.com and receive 15% off your first order. View Special...
Free Set Up Free Print Free Upload Pricing Made Easy asi/93131 - We Will Hit Your Price To Win! View Special...
SPRING MESSENGER BAGS, AS LOW AS $3.00 asi/37980 - Visit us online www.bagworldpromo.com View Special...
Huge Sale on our most popular USBs 1G $5.75 asi/90154 - Check out our site for more models. www.sunjoy.us View Special...
Full Color Printing - $100 off asi/79558 - Discover the easy way to offer full-color printing to you clients. We offer a wide variety of professional-grade marketing products including: Postcards, Notepads, NCR Carbonless Forms, Presentation Folders, Table Tents, Door Hangers, Business Cards View Special...
Cabbage & Irish Cream Lip Balm for St. Patty's? Sanitize me:1oz Gel or Pen Spray Sanitizer 0.69(r) asi/67636 - Finally, direct from the manufacturer to you. Simply the highest quality lip balm and sanitizer at the lowest price…period. Check for yourself! American made in an FDA audited and registered facility. Compare for yourself! View Special...
Custom Branded Gas Card Promotions by USA Connect! asi/92429 - CUSTOM BRANDED GAS CARD PROMOTIONS by USA CONNECT! Come Check Us Out!! Promote with custom branded Gas Gift Cards! This promotional campaign will get results! Low minimums, unbeatable pricing! Call now at 1-866-USA-CONNECT! View Special...
New North Carolina Location EQP and No Plate Charge Offer asi/75731 asi/75731 - Serving Our Customers Coast to Coast! View Special...
Sportco Left Chest Embroidery Special Offer! asi/88792 - Looking for cutting edge apparel decoration and more? View Special...
Finish Line Promo & Mfg - View our 2010 catalog online now with DigitalExpress! asi/54287 - Our DigitalExpress Online Catalog is now available for you to use. View Special...
HAND SANITIZER Pen Sprayer, from $0.57 each (net)! asi/30250 - AZX Sport's hand sanitizer gel is FDA approved and contains 62% alcohol content with a lemon fresh scent to reduce the alcohol smell. Leaves hands feeling refreshed without leaving a sticky residue. View Special...
<!—End of generated Content for 03/02/2010 to 03/08/2010-->

REGISTER FOR THE ASI WOMEN'S SUMMIT NOW AND SAVE $100
Don't miss the ASI Women's Summit taking place May 4, 2010, at the Millennium Broadway Hotel in New York City from noon-3:30 p.m. Designed for women in the advertising specialty industry, the ASI Women's Summit will provide a lively environment to develop new relationships while discussing new business approaches with colleagues. The action-packed afternoon schedule will include a networking reception, luncheon and two Keynotes by real estate mogul Barbara Corcoran and Rosalie Marcus, The Promo Biz Coach™. (Sponsored by Fields Mfg., asi/54100 and J. Charles Crystalworks, asi/62985.)
Register at www.asishow.com by March 31 and pay only $149. (A $100 savings!)
KICK OFF THE SECOND HALF OF THE YEAR AT ASI NEW YORK
Register today for ASI New York (May 4-6) and be prepared for your best sales season ever. At ASI New York, you'll benefit from spending valuable time with hundreds of top suppliers, finding thousands of new items, participating in dozens of free education sessions (sponsored by Fields Mfg., asi/54100 and MediaTree, asi/70303) and enjoying non-stop networking. Plus, plan to attend a free Keynote on how to Build Your Brand & Your Business with Social Networking (sponsored by RatePoint, Inc.).

Register today and reserve your hotel room at www.asishow.com. ASI distributor and decorator members can attend ASI New York for free and receive up to $100 toward a hotel room. Register at www.asishow.com.
Follow The ASI Show on Twitter and become a fan on Facebook today!
THE ASI ADVANTAGES ROADSHOW IS VISITING TEXAS NEXT WEEK
The industry's #1 traveling show, the ASI Advantages Roadshow, is visiting the Texas next week (Dallas, March 15; Austin, March 16; San Antonio, March 17 and Houston, March 18).

Delivering a productive, one-on-one atmosphere for distributors to meet with top suppliers, the Advantages Roadshow features free education (sponsored by Fields Mfg., asi/54100) from 7:45 a.m.-9 a.m. and 1 p.m.-2 p.m. and exhibit hours from 9 a.m.-1 p.m.

Visit www.advantagesroadshow.com for complete details. All distributors are invited to attend the Advantages Roadshow for free. No pre-registration is required.
The following are the dates and locations for The ASI Show in 2010:
New York: May 4-6
Chicago: July 13-15
Plus, don't miss the ASI Advantages Roadshow, the industry's #1 traveling show. Visit www.advantagesroadshow.com for the complete schedule and go to www.asishow.com for information on all ASI Shows.
| | |
| --- | --- |
| | |
SPONSORED BY


Counselor® PromoGram® is a trademark of the Advertising Specialty Institute. You were sent this newsletter as a benefit of your ASI membership. Copyright 2010, ASI. All Rights Reserved.
If you'd like us to send Counselor PromoGram FREE to anyone else at your company (or to your off-site sales reps), go to www.asicentral.com/newsletters and complete the online form.
Interested in advertising in Counselor PromoGram? Send an email to ddienna@asicentral.com
Click here to subscribe to Counselor® magazine. You must be a member of ASI to subscribe to this publication. The publisher has a right to refuse subscriptions to non-members.
Advertising Specialty Institute®, 4800 Street Road, Trevose, PA 19053