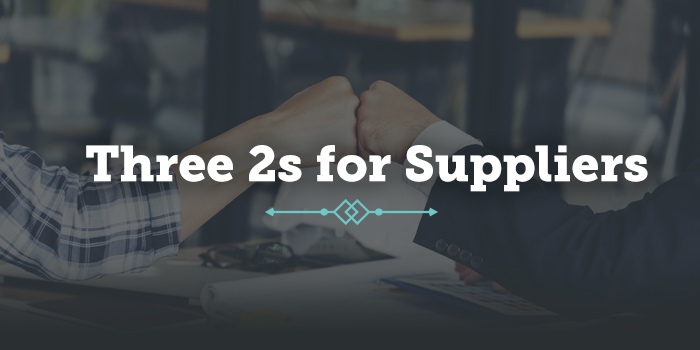 May 2020

Welcome to the May edition of the Three 2s newsletter.

We hope everyone is doing well and settling into a new routine while continuing to work hard to keep business moving. Suppliers and Distributors in the industry have shown just how resilient they are in the face of adversity. Many are making changes and adjustments to their product lines and the way they do business to help meet the new needs of their customers and clients. Things may be different, but they are not stopping.

Throughout all of this, remember that ASI is here to help and support you. If you need anything at all, please do not hesitate to contact your Account Executive or Caitlyn, Supplier Specialist at caitlynm@asicentral.com or 215-953-3450.

Sales Tips

Create lower-commitment "bite-size" sales offerings
These are things to generate revenue today, even if they're smaller than your minimums in the past. The key is that the price range needs to appropriately reflect the scope (for you to deliver) and the value (for the client to receive). Ideally, you'll cut the scope rather than cut your rates.
Tips on Selling During COVID-19 from: Karl Sakas
Create a re-engagement campaign
This category includes prospects who said "no" and prospects that disappeared into The Abyss. They aren't likely to convert now, but it's worth a try. Why? Some of the "lost" prospects won't be happy with their current agency—and some of the prospects that ghosted you before will suddenly have urgent needs today.

Tips on Selling During COVID-19 from: Karl Sakas
Industry Articles to Read


How to Ace Virtual Sales Presentations

How To Grow Your Email Subscriber List
Videos to Check Out

Have questions about your membership? Want marketing suggestions?
Or call her at (215) 953-3450.
asi/33020
©2020, Advertising Specialty Institute®. All Rights Reserved.
Advertising Specialty Institute, Inc., 4800 Street Road, Trevose, PA 19053
Opt out of this email list or Manage your preferences
Sent to: %%email%% asi/%%ASI_Number%%
302-7765 0320