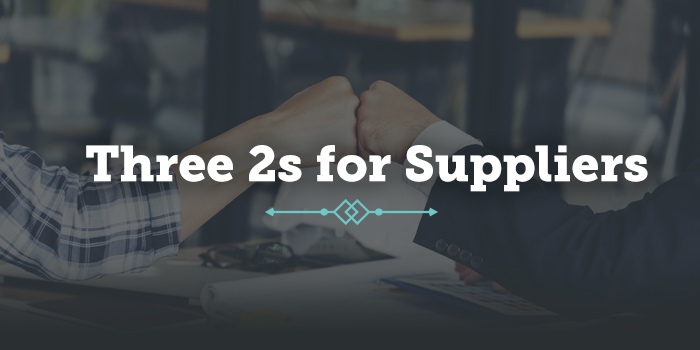 April 2020

Welcome to the April edition of the Three 2s newsletter.

During this ever-changing, unprecedented time, we understand that your business operations are in flux. We're here to work with you on the challenges you're facing and are committed to providing you, a valued supplier, with the education and resources you need.

​​​​​​In this edition of the Three 2's newsletter, we are providing you with some tips, videos and articles on things you can do for your business right now, how to sell during a recession, some skills you can brush up on and how to remain calm during this time.

If you have any questions about your membership or want to reach out, you can contact Caitlyn, Supplier Specialist at caitlynm@asicentral.com or 215-953-3450
Sales Tips

Stay Calm and Focus on Solutions
One of the worst mistakes a sales professional can make during a recession is to panic. Sales reps who act too aggressive or too hungry to make a sale will scare off potential customers, who are already worried about the fate of their own companies — and their jobs. Instead of hysteria, offer calm, focused solutions. "In a downturn, people are more concerned about safety and security than they are about high potential and big gain," Stevens says. Sales pros should do background research to determine the biggest challenges and threats potential customers face, then shape their sales pitches around ways to minimize those threats.
from: Christina Salerno
Upgrade Your Sales Force
Recessions often trigger layoffs or the closure of entire firms, which means that scores of sales professionals are looking for new opportunities. That's an opportunity for you to give your sales team more muscle. Asher suggests taking advantage of that pool of experienced labor and reorganizing your sales force to maximize its potential. His rule of thumb: Reassign or let go of the bottom third of your underperforming salespeople and replace them with fresh blood. But don't stop there. Employee training is also essential to boost sales in a recession. Assign senior sales managers, or even executives, to act as personal coaches to the sales force. Meet regularly with your sales reps to review your products and services, discuss strategies and setbacks, and keep people motivated.

from: Christina Salerno
Industry Articles to Read


Selling In Tough Times (Updated with advice for sales teams affected by COVID19)


11 Things to Do Right Now



Videos to Check Out

Have questions about your membership? Want marketing suggestions?
Or call her at (215) 953-3450.
asi/33020
©2020, Advertising Specialty Institute®. All Rights Reserved.
Advertising Specialty Institute, Inc., 4800 Street Road, Trevose, PA 19053
Opt out of this email list or Manage your preferences
Sent to: %%email%% asi/%%ASI_Number%%
302-7765 0320