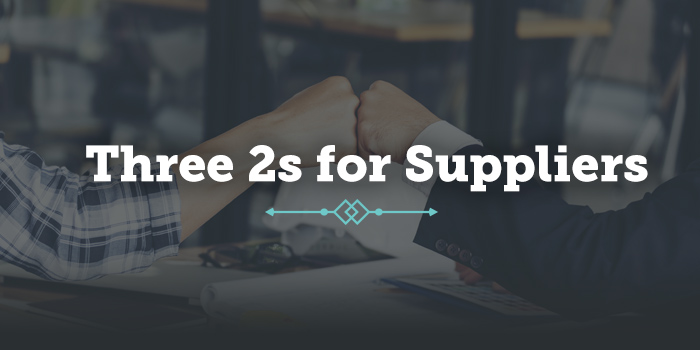 February 2020

Welcome to the February edition of the Three 2s newsletter.

2020 is off to a great start. We have been planning and preparing exciting ideas for this year. We consistently use the feedback we receive from you to enhance and improve what we provide our members. We want you to get the most from your membership and we can't wait to share upcoming webinars, trainings and educational material with you as the year progresses.

In the meantime, if you missed any of our past newsletters or webinars, you can access them on demand in the archive.

On the topic of webinars, don't miss our Q1 edition of the Membership 101 webinar series at the end of this month. We host guest expert, Chris Ruvo from ASI's Editorial Team and highlight the 2019 State of the Industry report. We will discuss exclusive data, collected through research, on trends, challenges and opportunities in the Promotional Products industry. Join us on February 27 at 2pm. Register here.

Cheers to 2020!
Sales Tips

Interruption is the enemy of productivity
"Interruptions break your workday into a series of work moments". It's really easy to let this happen on a weekly basis. Without even realizing it, you've scheduled meeting after meeting and haven't allowed time in your schedule to get any substantial work done. So, when you have time to work alone, take advantage of it. You might get more done in an hour of 'quiet time' than you ever thought you'd achieve in a half day's work filled with meetings.
Out-teach your competition
If you read sales blogs or articles often, you have probably noticed that there's a storytelling theme these days. Customers don't want to be sold. They want to be taught. And the easiest way to do that is to tell a story or to teach them something new —without directly selling your product or service. Be generous with information and advice as a salesperson.

from: Jason Fried, Author, Rework
Industry Articles to Read


5 Books for Your Team


How to Win in a Packed Category
Videos to Check Out

Have questions about your membership? Want marketing suggestions?
Or call her at (215) 953-3450.
asi/33020
©2020, Advertising Specialty Institute®. All Rights Reserved.
Advertising Specialty Institute, Inc., 4800 Street Road, Trevose, PA 19053
Opt out of this email list or Manage your preferences
Sent to: %%email%% asi/%%ASI_Number%%
301-11038b 0120