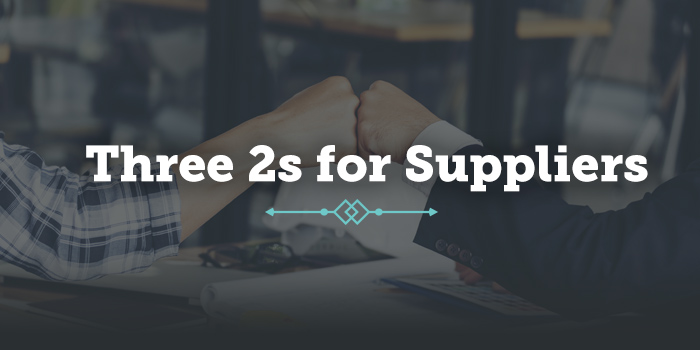 January 2020

Welcome to the January edition of the Three 2s newsletter.

Happy New Year! We hope you had a nice and relaxing holiday with friends and family. Everyone here at ASI is geared up for another successful year. 2019 brought many benefits to suppliers from new products, enhancements to current products and many opportunities for education in the industry.

We recently re-visited the Membership 101 webinar series in the Quarter 4 session where we touched on the popular topics from 2019 and reviewed new and enhanced products.

We encourage you to listen to the webinar recording here as we prepare for our Quarter 1 session. Look out for the registration link coming soon!

Cheers to 2020!
Sales Tips

Focus on Branding over Sales
The reason why 15-year-olds love brands like Tommy Hilfiger or Fila today is because they built on brand. Not because they had a sales funnel. It's the same reason why Spiderman, Aquaman, and Wonder Woman do so well at the Box Office.
The only caveat here is that you need enough sales to not go out of business. But build as much brand as you can.
from: Gary Vaynerchuk, Author, https://www.garyvaynerchuk.com/blog/
Use Content Creation as Your Leverage
If you're in B2B, you can host a niche podcast and email people that you normally would pitch. But instead of sending them a sales email, send them an email inviting them to be on your show. A lot of upper-level executives have tremendous insight and knowledge on their industry, but don't have the name recognition — so they're not frequently asked to be on podcasts. And once you build that relationship, you'll be stunned at how much easier it gets to get their business.

from: Gary Vaynerchuk, Author, https://www.garyvaynerchuk.com/blog/
Industry Articles to Read


7 Ways to Fill Your Sales Pipeline

20 Predictions
for 2020
Videos to Check Out

Have questions about your membership? Want marketing suggestions?
Or call her at (215) 953-3450.
asi/33020
©2020, Advertising Specialty Institute®. All Rights Reserved.
Advertising Specialty Institute, Inc., 4800 Street Road, Trevose, PA 19053
Opt out of this email list or Manage your preferences
Sent to: %%email%% asi/%%ASI_Number%%
301-11038a 0120